October 6, 2022
5 Things You Didn't Know About Laser Careers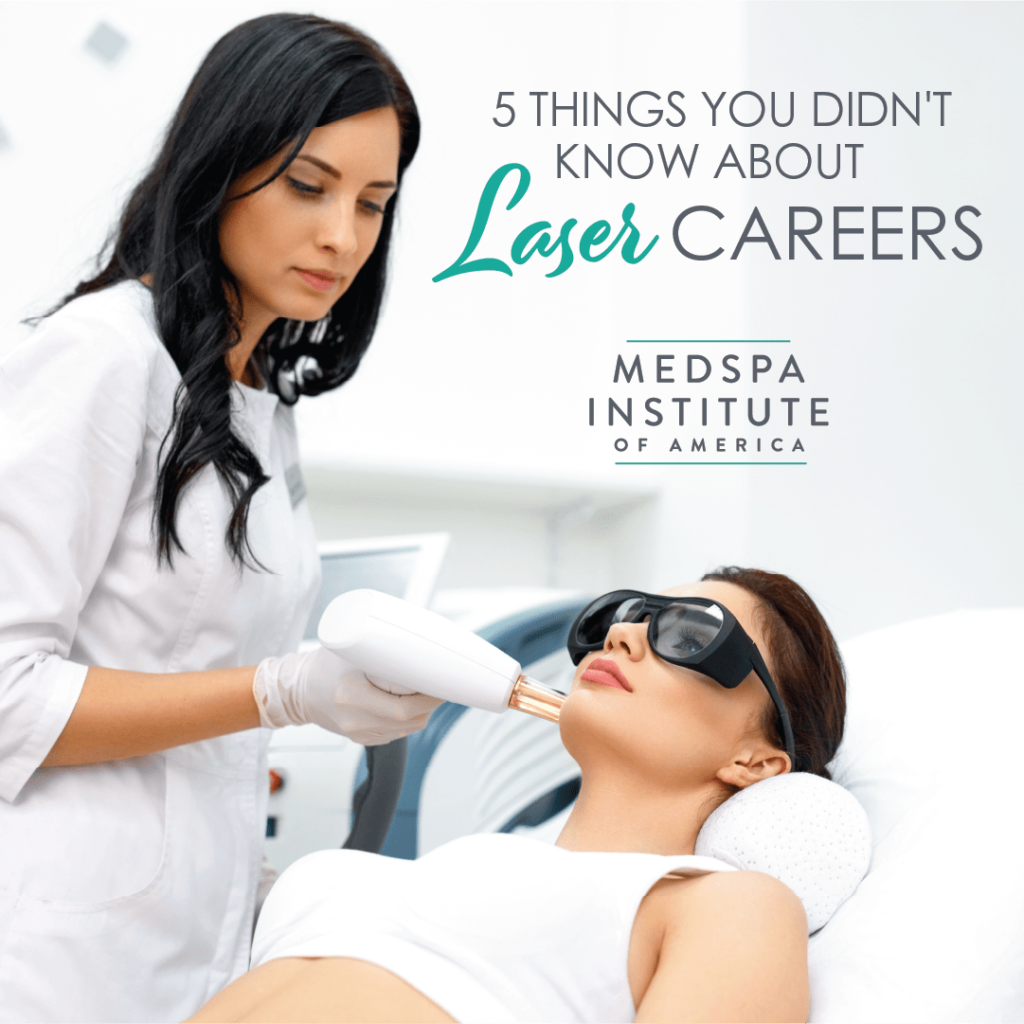 From laser hair removal to body skin tightening, it's no surprise that interest in laser services have grown in recent years. Uses for laser technology continues to diversify. Careers in this field could offer lucrative advancement opportunities.
Do you like helping others look and feel their best? Are you looking for a career that offers the chance to learn new skills as technology grows? A laser career could be the perfect fit!
At Medspa Institute of America we're committed to helping students reach their potential. We've found that these 4 things are not always commonly known and wanted to highlight them.
1. It Doesn't Take Long to Begin Your Laser Career Journey!
Although there are no certification requirements in the state of Minnesota to provide laser procedures under the supervision of a physician, some employers may require training before employment. It can be hard for a potential employer to cover you under insurance if you do not have a licensed certificate. Getting a certificate ensures that you have learned and practiced all safety protocols. It also helps you to have the proper training and familiarity with the treatments and technologies. Being a "Certified and Licensed Laser Technician" canmake you stand out from other job candidates.
Laser certification course hours vary depending on the level of education offered. For example, our laser certification programs are built into two phases. The first consists of general education covering basic laser theory and can be completed in two weeks. The second phase is the internship part of the program where students learn to use the equipment. To meet Minnesota's laser laws, the internship phase can be completed  in as little as 120 hours.
Our Laser programs do require a GED to enroll. Although our laser programs do not require previous licensure, students can expect to build on their previous foundation of skincare knowledge with more clinical techniques. This is why we recommend laser certification to those who have already received an esthetics or advanced practice esthetics education.
2. Laser Careers Can Include Many Service Offerings.
Do you already have your esthetician license and are looking to expand your offerings? Our laser certification program can help you safely perform additional services for your clients. These services may include:
Facial skin tightening
Age spot removal
Spider vascular vein removal
Broken capillary removal
Toenail fungus removal
IPL (Intense Pulsed Light Therapy)
Rosacea laser
Tattoo removal
Skin resurfacing
Laser hair removal
If you're simply looking to offer more services as a licensed esthetician, a laser certification can provide you with additional skills while expanding your knowledge. A dual laser and esthetician license can allow you to grow your client base by being able to offer a variety of in-demand services. You could be a more valuable member for any clinic by having the knowledge to use technology in both fields.
3. A Laser Certification Can Support Your Laser Career.
It can be difficult to launch a "clinical" career with only an esthetics license or even an advanced practice esthetics license. With a laser certification, you may achieve a career advantage by expanding your marketability to a wide variety of job prospects. These may include:
Med spas
Physician's offices
Niche clinics
Fitness centers
With the increasing demand for laser skin treatment services, more and more doctors, dermatologists, and med spas are seeking to offer additional laser procedures. According to the Bureau of Labor Statistics, the employment rate of Skin Care Specialists is projected to increase 17% over the next ten years, which is a faster rate than the average job outlook. There is no better time to begin your laser career than now as it offers professional growth opportunities and stability in an ever changing and rapidly growing technological industry.
4. An Expanded Laser Skill Set Can Be Critical.
Laser careers need more than just safe and effective use of the equipment. There are other skills that a laser program graduate should have that could support growing your client base, including:
Attention to detail
Communication skills
Being interpersonal and sociable
Understanding of computers and a variety of softwares
Those with a keen eye for detail work well in laser careers as the use of laser technology often requires precise operation. Your services could involve operating the laser itself, but could also require the use of computers and software that supports the laser application. So, it can be critical that laser operators have an understanding of technology in many formats.
5. Laser Technicians Can Help Others Feel Great About Their Body
Potential clients who are considering laser treatments may have fear or apprehension. As an individual administering treatments, you should have great communication skills to be able to reassure a potential client's worries. Making a client feel comfortable and being able to explain the treatment in simple terms is extremely helpful during a laser session.
After receiving laser treatment, clients can feel the difference in how their body looks and feels. There can be a boost in their confidence and overall outlook on life!
Learn More Today!
If you're passionate about making your clients feel good and giving them a boost of confidence, with not only your words but also through laser treatment, this career could be perfect for you!
Don't hesitate to join our laser certification programs. We are the only esthetics school in Minnesota that offers laser certification. Whether you're looking to further your clinical career or simply wishing to expand your esthetics knowledge, one of our three laser programs can meet your needs. Contact us to find out more about our programs at MedSpa Institute of America. Contact us today so that we can support your laser career journey!