July 5, 2023
Esthetics vs. Advanced Esthetics License: What's the Difference?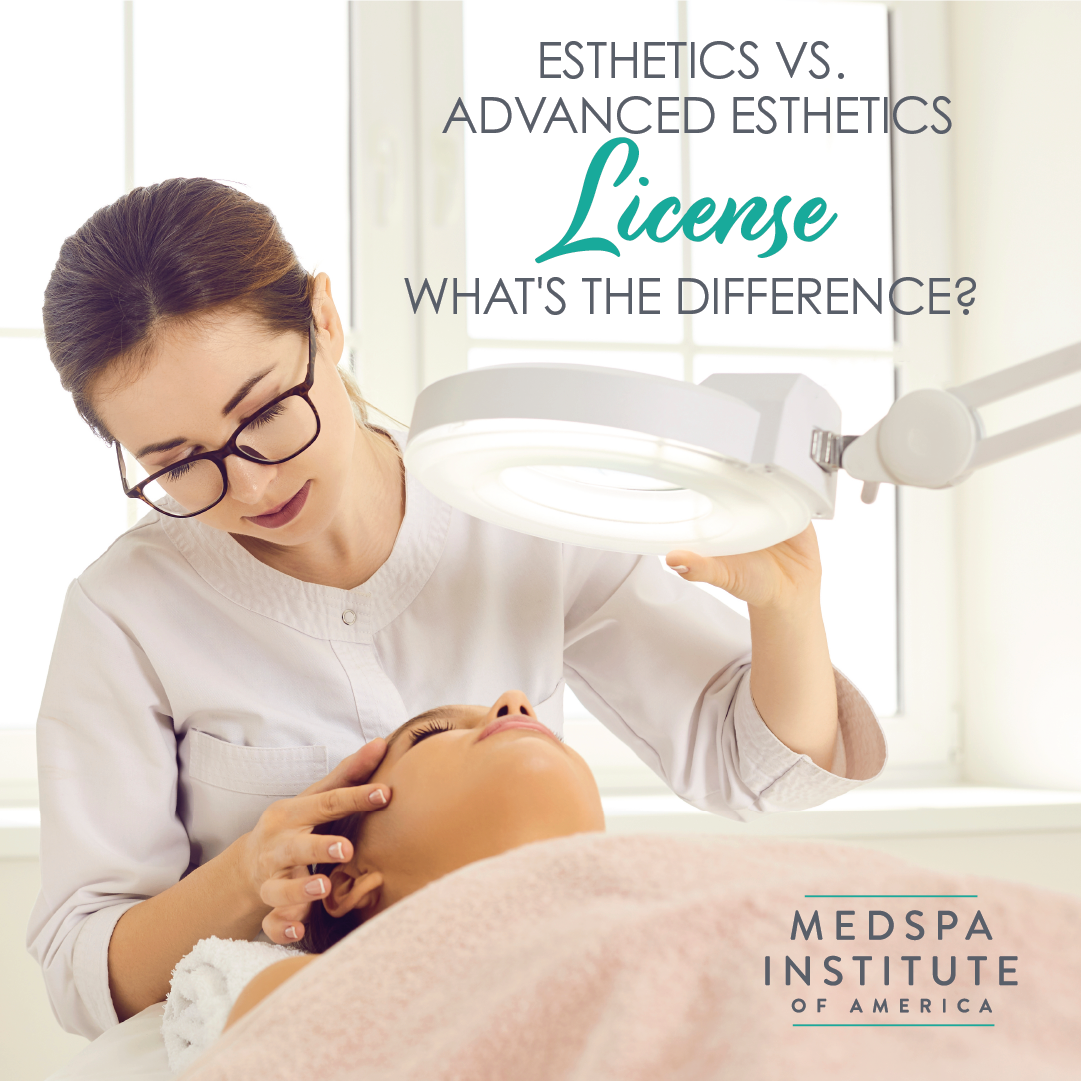 If you've considered a career in esthetics, you may come across two different types of licenses: esthetics license and advanced esthetics license. If you're deciding between the two, understanding the differences can help you make an informed decision!
In this blog, we're going over how they're different, the similarities they share, and how to choose the right path for you!
Esthetics
With an esthetics license, professionals can gain skills to perform a wide range of treatments, ranging from facials to waxing. If you want to become a licensed esthetician, our 600-hour esthetics course can help you gain the knowledge you need to become a licensed skincare professional. Here are some of the skills you can learn in our esthetics program:
Facials
Waxing
Tinting lashes and brows
Brow henna
Brow lamination
Lash extensions
Makeup
Essential oils
Lash perming
Learning from Milady's curriculum
Careers As An Esthetician
As an esthetician, you can explore a wide range of career opportunities within the beauty and skincare industry. Here are some you can consider:
Spa or Salon Esthetician: Many estheticians choose to work in spas or salons, offering a variety of services such as facials, waxing, body treatments, and makeup application.
Freelance Esthetician: Some estheticians choose to work as freelancers, providing skincare services independently. This can involve offering home-based treatments, mobile services, or even renting space in a salon or spa on a per-client basis.
Skincare Consultant: Many skincare brands and companies employ estheticians as consultants. You can provide expert advice and product recommendations to clients, conduct skin assessments, and develop personalized skincare routines.
Advanced Esthetics
While an esthetics license provides a solid foundation in skincare, an advanced esthetics license offers an additional layer of expertise and specialization. With our comprehensive 500-hour Advanced Practice course, you will have the opportunity to delve into advanced modalities that can take your skills to the next level. Here's what you can expect to learn in our program:
Microneedling
Carboxytherapy*
Microcurrents
Dermaplaning
High-frequency technology application
Medical grade chemical peels with Glytone*
Advanced extractions
BB Glow Semi Permanent Foundation*
Plasma Pen*
LED light therapy
PRP*
*Offered exclusively at MedSpa Institute of America
Careers As An Advanced Esthetician
As an advanced esthetician, you have an expanded skill set and knowledge base, allowing you to pursue a variety of specialized and rewarding career paths within the beauty and skincare industry. Here are some potential careers you can explore:
Medical Spa Esthetician: With your advanced training, you can work in medical spas. You may perform procedures such as chemical peels, microdermabrasion, laser treatments, and dermaplaning.
Clinical Esthetician: As a clinical esthetician, you can work in a dermatologist's office or a medical clinic. Your role would involve assisting with various medical skincare procedures and supporting patients in maintaining healthy skin.
How Are They Similar?
While estheticians and advanced estheticians require different training, they do share some similarities in their roles and responsibilities in the skin care industry! Here are a few:
Focus On Skincare: Both professions primarily focus on the health and well-being of their client's skin.
Product Knowledge: They both have in-depth knowledge of different skincare products and ingredients. This knowledge allows them to recommend the right products and educate their clients!
Personal Satisfaction: Estheticians and advanced estheticians have the opportunity to help clients improve their skin health, which can be highly satisfying. Knowing you're making a difference in someone's life can be a huge benefit!
Creativity: Skincare treatments require a level of creativity because it's not a one-size-fits-all. Each client will need their own unique treatment, allowing both professions to use their creativity.
Choosing The Right Path For You
Deciding which license to pursue largely depends on your career goals and aspirations! If you are passionate about skincare and want to focus on basic treatments, then an esthetics license might be the best choice for you.
On the other hand, if you want to work with medical professionals and want to specialize in corrective skincare, then a license in advanced esthetics might be the path for you!
Let's Get You Started!
No matter which license you choose to pursue, we're confident you'll make the right decision.
Each license path offers distinct advantages that can truly propel your career forward, so don't let this decision weigh on your mind! Embrace the opportunity to choose the path that aligns best with your goals and aspirations.
Take the next step and embark on a career in esthetics by enrolling in one of our programs. And if you have any questions, don't hesitate to contact us. We're here to support you in your journey and look forward to hearing from you!