November 15, 2023
What Will I Learn in Luxury Lash Training?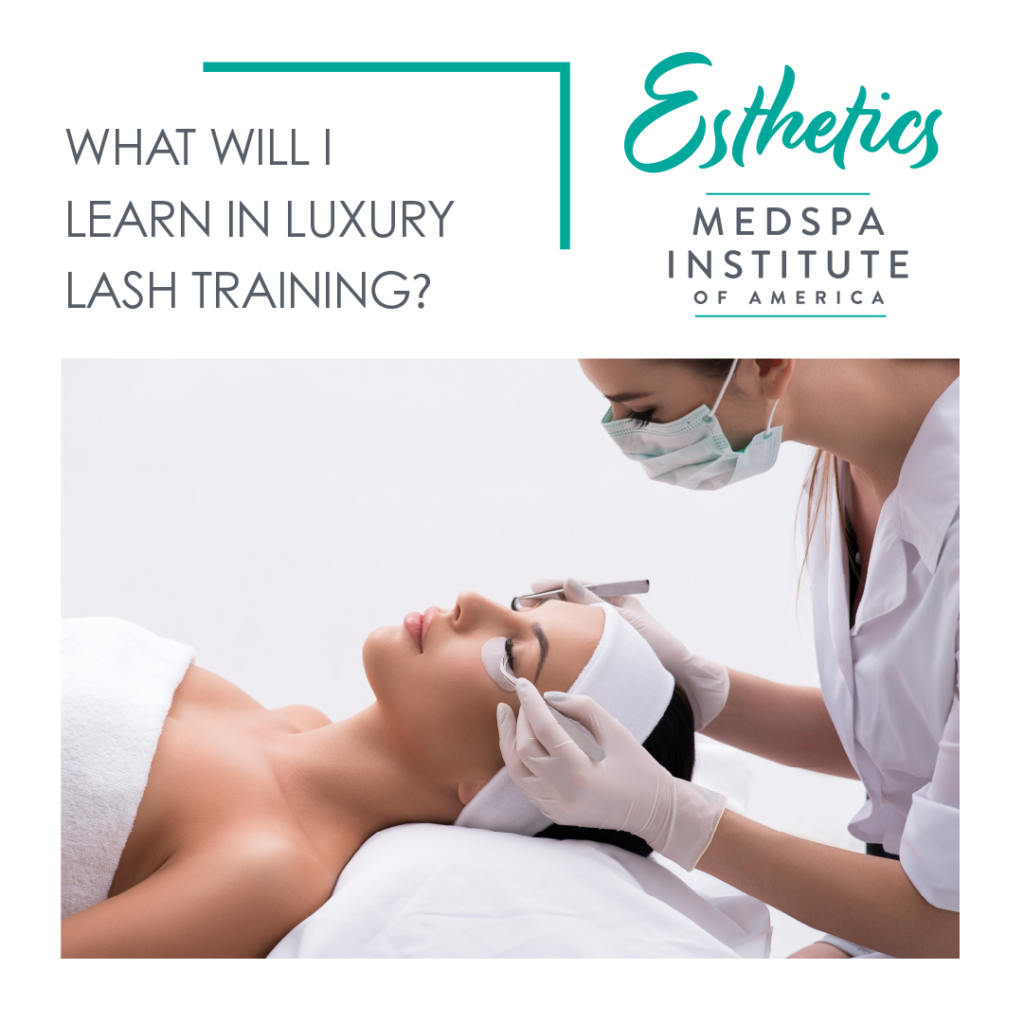 Are you passionate about the beauty industry and dream of mastering the art of eyelash extensions? If so, the MedSpa Institute of America's Eyelash Technology Course can be the perfect place for you to embark on your journey. Whether you're new to the world of beauty or looking to enhance your skills as a certified lash artist, our program offers a unique blend of theory, hands-on training, and business building to equip you with the essential tools and knowledge you need.
In this blog, we'll walk you through what to expect from our Lash Extensions Course, including the curriculum, hands-on experience, and how this program can kickstart your career in the beauty industry.
What to Expect
Our Lash Extensions Course is an intensive one-week program designed to provide you with the knowledge and practical skills needed to become a certified lash artist. The course combines classroom theory and hands-on practice to ensure you receive a well-rounded education. Here's a breakdown of what you can expect from the program:
Theory Curriculum (24 Hours)
1. Eye and Orbital Structure
In the first part of the course, you'll delve into the anatomy of the eye and orbital area. Understanding the structure of the eye is essential for precise lash extension applications and ensuring the safety and comfort of your clients.
2. Eye Anatomy
You'll study the intricacies of the eye, including the different parts that play a role in eyelash extensions. A deep understanding of eye anatomy is crucial to avoid potential complications during the application process.
3. Eyelash Growth Cycles
To become a proficient lash artist, you must grasp the growth cycles of natural eyelashes. This knowledge will guide you in determining the right time for touch-ups and extensions.
4. Product Ingredients
You'll explore the various ingredients found in lash extension products. Understanding these components is vital to select the right products for your clients and to ensure safety and compatibility.
5. Health, Safety, and Sanitation
Ensuring the health and safety of your clients is a top priority. You'll learn about sanitation practices, safety precautions, and how to maintain a clean and sterile workspace.
6. Industry Laws and Regulations
Compliance with industry laws and regulations is essential for any beauty professional. You'll gain a comprehensive understanding of the legal aspects of providing lash extension services.
Clinical Instruction (14 Hours)
1. Client Consultation
Learn how to communicate effectively with clients, understand their preferences, and set clear expectations for the lash extension process.
2. Lash Design
Master the art of designing various lash styles to enhance your clients' natural beauty.
3. Eye Area Cleansing
Discover the best practices for preparing the eye area, ensuring it's clean and ready for the application process.
4. Applying Eyelash Extensions
Get hands-on experience in applying eyelash extensions professionally and safely, achieving a flawless and natural look.
5. Removing Eyelash Extensions
Learn how to safely remove extensions and address any concerns your clients may have during the process.
6. Complete Four Sets of Lash Extensions
Practice makes perfect! Throughout the course, you'll have the opportunity to complete four full sets of lash extensions, gaining valuable experience and honing your skills.
Beyond Practical Skills
By the end of the course, you'll be well-prepared to embark on your journey as a certified lash artist. Here are some additional skills you'll acquire:
Confidence: You can feel confident in performing safe and sanitary classic lash extension applications.
Product Knowledge: You'll be knowledgeable about eyelash extension products, including removal techniques.
Client Interaction: You'll know how to provide exceptional service experiences to clients.
Recommendations: You'll feel confident in recommending at-home maintenance products and routines to clients.
Marketing Skills: You'll understand how and when to use social media for effective marketing.
State Board Exam: You'll be well-prepared to sit for state board exams, if required in your region.
Enroll in Our Lash Extensions Course Today!
Are you ready to take the next step in your beauty career? Our Lash Extensions Course at the MedSpa Institute of America is designed to equip you with the skills and knowledge you need to become a certified lash artist. With a combination of theory, hands-on training, and business-building skills, you can be well-prepared to provide exceptional service and build a successful career in the beauty industry.
If you're excited to start your journey, we invite you to explore our class start dates and enroll in our upcoming Lash Extensions Course. No matter your experience level or background, our course is accessible to all who are eager to learn and excel in the art of eyelash extensions. Don't miss this opportunity to unlock your potential and embark on a fulfilling career. Contact us today to learn more!