October 31, 2022
Benefits of Becoming a Medical Esthetician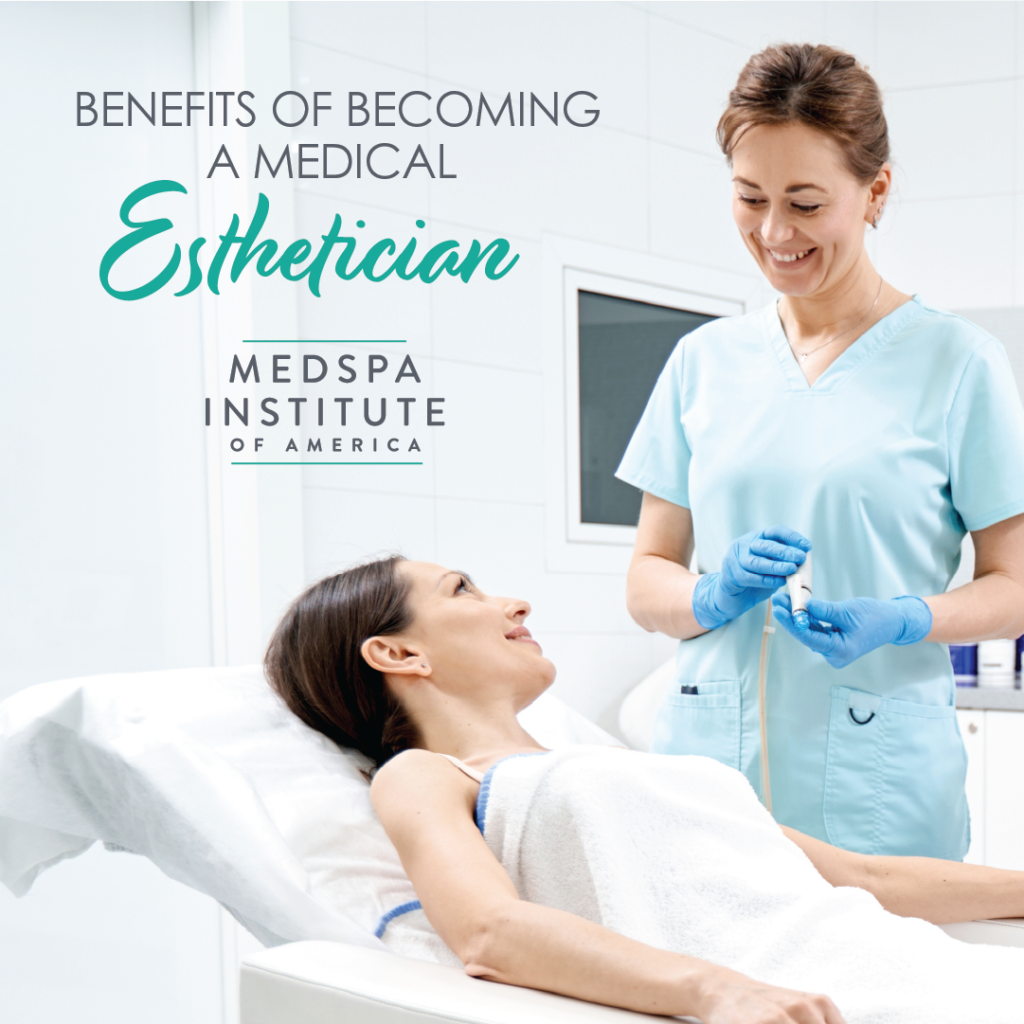 Whether you already work as an esthetician or are considering a career change into the esthetics world, you might be curious if it's worth it to become a medical esthetician. Becoming a medical esthetician is currently a popular career path and like everything else that's good, takes time and effort. In the Advanced Practice Esthetics Program at MedSpa Institute of America, you'll receive hands-on training with small class sizes. This means you'll get a more personalized experience from our instructors as they teach you more advanced techniques.
You might be considering a career in medical esthetics or are looking to advance in your esthetics profession. Here are some of the benefits to consider to help you make the next step in your career!
Increased knowledge of skincare
Becoming a medical esthetician will give you a deeper understanding of skin care. Medical estheticians go beyond the traditional services one can perform as a basic esthetician. You'll be able to perform more advanced skincare treatments. Some of these treatments are:
Microneedling
Chemical peel treatments
Laser Therapy
Dermaplaning
And more!
Increased services provided
As a medical esthetician, you'll be able to offer more services to your clientele than a basic esthetician. As you offer more services, you'll widen your client base while giving you better business opportunities. Your advanced skill sets will set you apart from other estheticians, which will attract new clients. People typically prefer seeing one esthetician for all their skincare needs, and providing these extra services could make you that one esthetician.
Increased level of service
Even if you're not planning on offering new services, it's still worth becoming a master esthetician. You'll have a deeper understanding of the existing services you're already offering. You'll provide better service for your clients and you'll be as confident as ever. You also will be able to charge more per service, which may increase your potential earnings.
Access to higher pay
The more knowledge and experience you have, the better the job opportunities. As a medical esthetician, you'll be eligible to apply for better-paying jobs. Higher education is never a bad thing when it comes to looking for higher pay. And the amazing thing about becoming a medical esthetician is that the more years you spend working, the more you can expect to earn.
New job opportunities
As a medical esthetician, you'll be able to work outside of a salon or spa if you want. You can provide skincare in these settings:
Dermatology
Hospitals
Clinics
Plastic surgery offices
Medical spas
And more!
You might also consider owning your own spa or salon! Although you don't need to become a master esthetician to become an entrepreneur, it helps if you want to start your own beauty-related business. The opportunities are endless and the more knowledge you receive, the more opportunities you will see.
Why MedSpa Institute of America
Our programs at MedSpa Institute of America are all focused on student success and future potential employment. As part of our program, you may receive hands-on experience through our continued mentorship and unique internship program.
With a 500-hour program, this can be completed in a little less than four months and is recommended for anyone who has either completed a standard esthetics program or is about to complete one. We offer various start dates throughout the year with both a full-time and part-time option.
Here is what you canlearn from our Advanced Practice Esthetics Program:
Microneedling
Carboxy Therapy*
Microcurrents
Dermaplaning
High-frequency technology application
Medical grade chemical peels with Glytone*
Advanced extractions
BB Glow Semi Permanent foundation*
Plasma Pen*
LED light therapy
PRP*
*offered exclusively at MedSpa Institute of America
Get started on your journey today!
There are numerous benefits to becoming a medical esthetician. What's stopping you from changing your career and pursuing your dreams? If you are interested in becoming one and want more information, we're happy to help. Contact us for any questions you have about our programs and schedule a tour. We can't wait to help you pursue your passion in beauty!